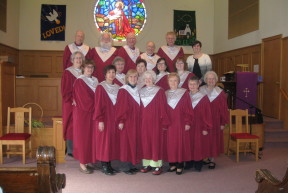 The Hooksett Congregational Church is blessed to have choir groups that share the gift of music with the congregation:
The Chancel Choir/Senior Choir
The Chancel Choir includes about 15 enthusiastic singers who rehearse one night a week during the choir season, September to June, as well as on Sunday mornings before the worship service. The group sings both standard tunes and contemporary music, and is committed to enhancing the worship service through song.  ***Due to Covid-19, the choir has not been singing since March of 2020.  They are just now re-organizing to sing an anthem for Easter, and plan to come back for regular weekly rehearsals and Sunday worship singing in September of 2022.***
The Children's Choir
When there are enough school-aged children interested, our choir director will organize a few opportunities a year for a Children's Choir to gather to rehearse and sing at a few special services.  These services often include Advent services, Palm Sunday, Mother's Day and Children's Sunday.  The Children's Choir, when scheduled, typically rehearses from 9:40-9:50 am before Sunday morning services.
—————————————————————————————–
The Church Choir Director, Mrs. Heather Bridges, chooses the music selections for our worship services, and for the Chancel Choir. We are accompanied by Mr. Jon Abrams. New singers are always welcome to join us.
For more information about the church music program, please contact Heather via email at choirdirector@hooksettucc.org.