Pastor Jenei
Education and Experience
Pastor Jenei received a Master of Divinity Degree from Hood Theological Seminary in North Carolina and a Master of Sacred Theology from Chicago Theological Seminary. She has been working on a Ph.D. in Biblical Studies focusing on Hebrew Bible at Lutheran Theological Seminary in Chicago.  Rev. Jenei Rossigg has served four denominations in ministry and taught Hebrew in a Reform Judaism community.
Family
Pastor Jenei and her wife, Sara, have three children, and three furry children. Jenei's wife, Sara, is an ordained minister in the UCC, serving in Canterbury, New Hampshire.  Pastor Jenei is originally from the coast of North Carolina and grew up in the foothills of the Appalachian Mountains.
It's most important to know that Pastor Jenei loves to laugh and share stories. Don't be surprised when her Southern accent sneaks out. She prefers hugs to handshakes, but doesn't like to intrude on personal space!  Pastor Jenei is genuinely interested in listening and learning about the people she meets. Our pastor is passionate about helping people let go of whatever holds them back from experiencing and sharing God's love, grace, and compassion.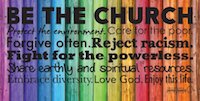 Style and Beliefs
Her sermons are real and tangible. Typically, she shares a story that helps reveal the scripture's relevance to our everyday lives. She is a visionary and is crazy energetic.  Our pastor believes that "God don't make no junk" meaning that each of us is valuable, precious, and unique. Pastor Jenei believes in transformation and Grace unlimited. She knows the importance of singing, laughter, and play.  As we seek to do justice, mercy, and walk humbly with God, she leads with love and compassion.  Come and get a taste of what it's like to participate in ministries and missions together that seek to "Be The Church!"