5 for 5
Hooksett Congregational Church is a "5 for 5" church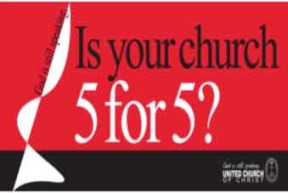 A 5-for-5 congregation gives to Our Church's Wider Mission (OCWM) through its church budget, while also providing parishioners the opportunity to participate in each of OCWM's four special mission offerings received during the year:
One Great Hour of Sharing – transforms lives through health, education, agricultural, and emergency relief initiatives in 138 countries.
Strengthen the Church – helps make dreams and visions a reality by planting new churches and awakening new ideas in existing churches, developing spiritual life in our youth and young adults, and ensuring many more will hear the good news that "God is still speaking".
Neighbors in Need – supports ministries of justice and compassion throughout the United States.
Christmas Fund – supports the "Veterans of the Cross" and the "Emergency Fund".
Our congregation has been recognized by the UCC as one of 45 local "5 for 5" churches — those contributing to all 5 of the all-church offerings.  See the posting here.  Thank you… Your amazing generosity combined with that of the other congregations in the Conference is "Changing Lives" here and all around the world!
Our first of these offerings for 2015, One Great
Hour of Sharing, will be taken on Sunday,
March 15th.  Watch for upcoming announcements!
Links: